Product update: Increased Insights & Analytics!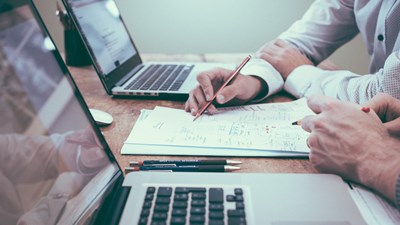 Date: August 2023
In uMarketingSuite 1.23 we have added a bunch of additional metrics and options to get even more insights and analytics than ever before!
Curious about the latest uMarketingSuite version? Install the latest package via NuGet.
Extended Profiles
Exporting Profiles

We believe in empowering our users, and that's why we've added the ability to export profiles. Seamlessly extract and utilize your profile data for external analysis and reporting. Your data, your way!
Active Segments & Search Terms
Get more insights thanks to the addition of the Active Segments display on Profiles, enabling you to quickly see what segment(s) a user was set to. In addition to Active Segments, we have added the ability for search term tracking!  Understand how users are searching for your content and products, enabling you to refine your offerings and improve the user experience. Whether it's analyzing search trends or tailoring content, these insights are your key to informed decision-making.
Not only are search terms displayed on a profile, but a new tab has also been added to Analytics, allowing you to view your platform-wide used search terms!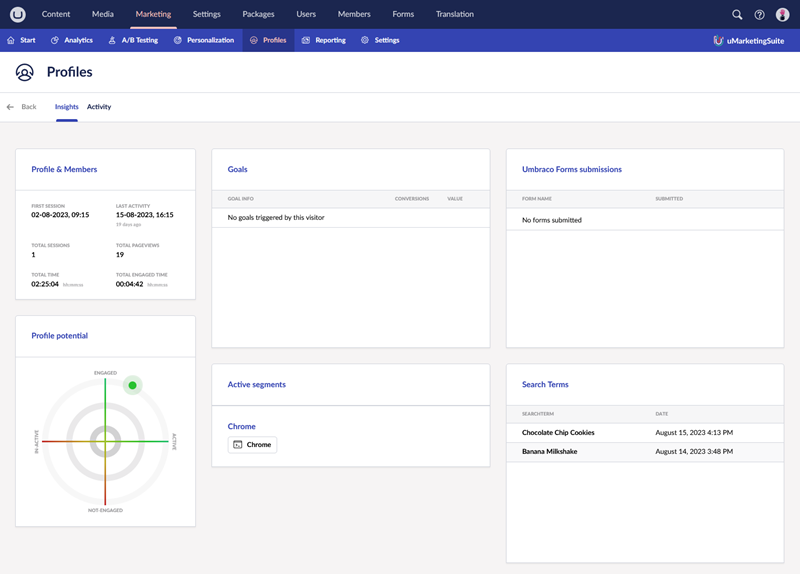 Access to Reporting
With uMarketingSuite 1.23, we're putting the power of reporting into the hands of those who need it most. Introducing the new "Reporting" user and group permission, which allows you to control who can access and view your valuable reporting data. Now, you can ensure that your team members have the insights they need to make informed decisions, all while maintaining the security and confidentiality of your data by restricting access to those who shouldn't be allowed access.
Umbraco Forms Submission Goal
Say hello to our latest goal addition - "Umbraco Forms submission" goal triggers! Tracking user interactions has never been smoother. Now, you can effortlessly monitor form submissions and conversions, enabling you to understand your users better and optimize your strategies for maximum impact, allowing you to choose between both any Umbraco Form, or a specific set of Umbraco Forms to trigger a goal.
Additional remarks
Besides the addition of the features mentioned aboce, we've been fine-tuning the performance of uMarketingSuite across the board, and resolved several bugs in the process!
If you have questions about this release, please let us know!
If you find any bugs? Please report them to us on Github: https://github.com/uMarketingSolutions/uMarketingSuite
Do you want to know more?
Book your uMarketingSuite demo here! or contact us
Obtaining a license
Check out our pricing page on uMarketingSuite.com for a complete overview of the available bundles and pricing. Interested in becoming a uMarketingSuite partner with a lot of partner benefits? Go to our partner page.
What is next?
Headless support
Reporting API
Curious what was previously added?