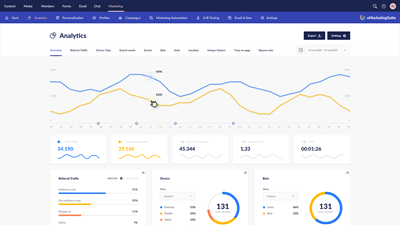 Umbraco is the most user-friendly CMS on the market with more than 730,000 websites built worldwide. The CMS can of course be expanded with all kinds of Umbraco features to set up the platform the way you want. You can do this with third-party packages, or packages that Umbraco offers itself.
Every organization finds different things important and that is the big advantage of Umbraco. There are more than 1,200 packages that help you to set up the platform in such a way that it meets all your wishes and requirements. Umbraco is built in such a way that developers can easily expand the platform with custom applications. Are there any questions about a package or possibility within Umbraco? Don't worry, there are always people from the community who are happy to help!
uMarketingSuite is one of those packages developed for Umbraco. Umbraco does not have standard marketing features such as personalization and A/B testing. With these marketing features you boost the performance of your website and that's what everyone wants, right?
More and more of your visitors expect a personalized experience. It is becoming increasingly important to provide for this, because it allows you to distinguish yourself from the competition that does not yet offer a personalized experience.  Within a few minutes, personalization can be applied. Build your segment with the ingredients you want to use, and create a new variant of a page in split view. This way you serve your audience the right content based on their interests.
In addition to personalization, you can also set up an A/B test to increase conversion. It is possible to customize content on a page in split view mode. In addition, you can also adjust the call-to-action buttons. For example, do you want to test a new color to see if it converts better? No problem! This is easy to change with uMarketingSuite.  To be sure that a test really converts better than the original variant, it is important to include all goals and that is why uMarketingSuite also makes them immediately visible in your A / B test.