Product update - Splitview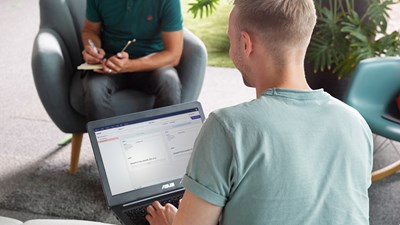 Today we've released the long awaited content level splitview A/B testing and Personalization feature. For this feature you need to update to Umbraco 8.7 and uMarketingSuite 1.5. In this blog an overview of the new features and updates.
Can't wait? Get it on Our Umbraco or install the package via NuGet.
Splitview A/B testing and Personalization
With the new features in Umbraco 8.7 it is now possible to use the full power of the uMarketingSuite. You can A/B test and Personalize on page level in the uMarketingSuite Content Apps. Change the title of your page based on a A/B test or specific visitors in a segment? This is now something every marketer can do, no technical skills required!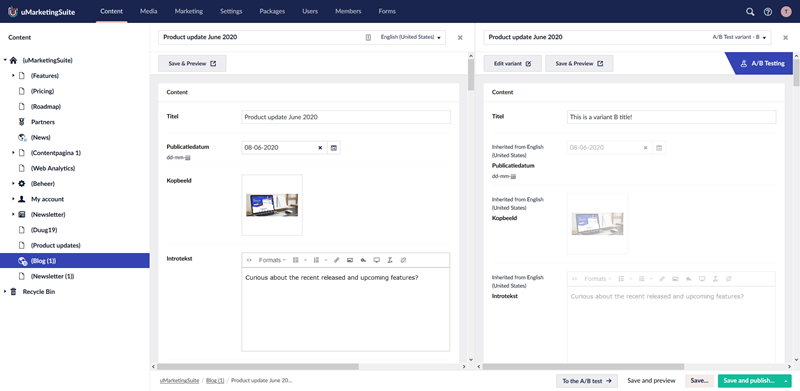 Would you like to change an image or show different content based on in which segment you visitor is. Use the Personalization Content App feature on page level.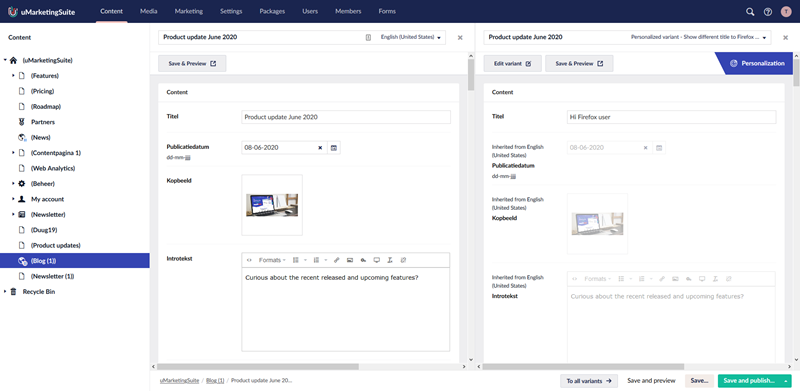 * For the splitview features you need to upgrade to Umbraco 8.7 or higher.
New Analytics tab Events
We have added one new report to the Analytics section in uMarketingSuite and the content app on every node. The data is already stored in the uMarketingSuite database and we just had to visualize this data. If you upgrade your uMarketingSuite installation you will have direct insights in this historical data.
Events
Curious on which events are triggered? The new tab Analytics will give you a clear overview with a drilldown functionality.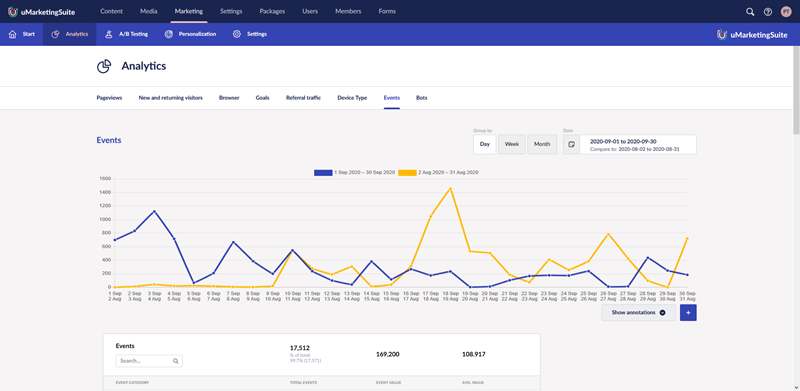 Insights in data storage
We have extended the statistics tab in uMarketingSuite settings. Curious how much database storage is uMarketingSuite consuming? Gain those insights in the updated statistics tab.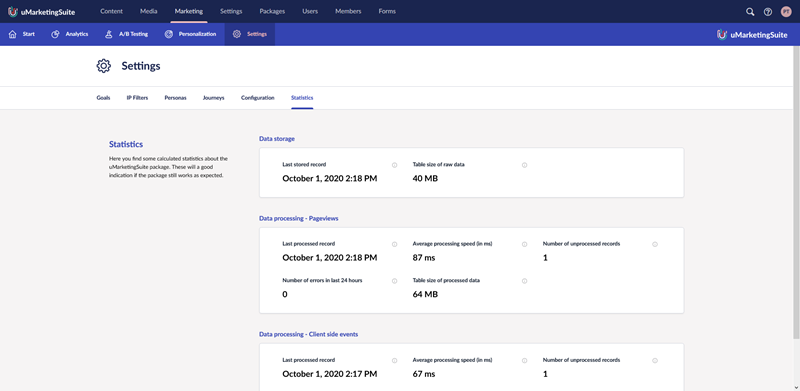 Bugfixes / improvements
Could not find stored procedure 'sp_msforeachtable'
Improved bot classification
General performance improvements
If you find any bugs? Please report them to us on Github: https://github.com/uMarketingSolutions/uMarketingSuite
Pricing
Our introduction discount has ended on September the 1st but you can still purchase a license for the uMarketingSuite for a great price. Check out our pricing page on uMarketingSuite.com for a complete overview of the available bundles and pricing. Interested in becoming a uMarketingSuite partner with a lot of partner benefits? Contact us.
What is next?
In the current sprint we are working on:
Roles, rights and granular permissions for Document Types and uMarketingSuite features
Analytics - include sub-pages in reports
A lot of UX improvements