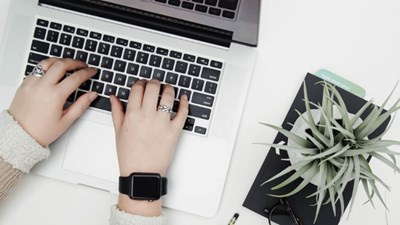 In uMarketingSuite 1.10 we have added another set of great features and improvements: Simulation mode in the Cockpit, Content App badges, the Profiles Member section and additional Developer Extensibility options.
Don't want to wait? Go to Our Umbraco or install the package via NuGet.
Simulation mode in Cockpit
You have created a new segment but of course you would like to know how the site will look like when you are entering the site as a visitor in the newly created segment.
This is now possible with the new cockpit feature Simulation mode. Just open the cockpit, open Simulation mode and select the segment which you want to preview.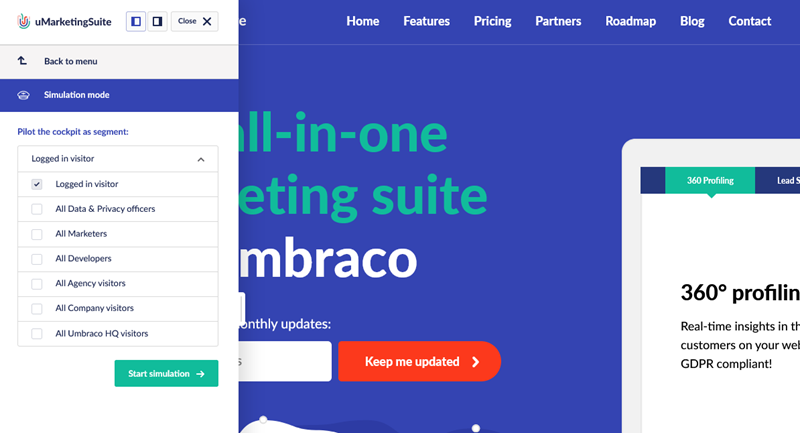 Page and Content App badges
To quickly see which features of uMarketingSuite are active on a page in Umbraco we have introduced page and content app badges.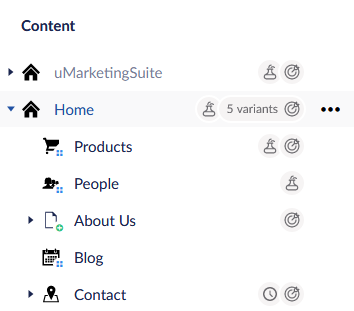 Profiles in Member section
In the recent introduced Profile section within the uMarketingSuite it is now possible, if a member is linked, to go directly to the member profile.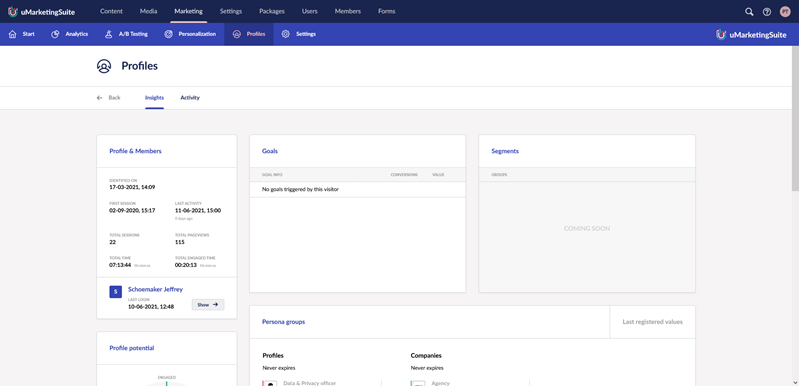 When the "show" button is clicked you will access the member section and it is possible to view all the activity of that specific member.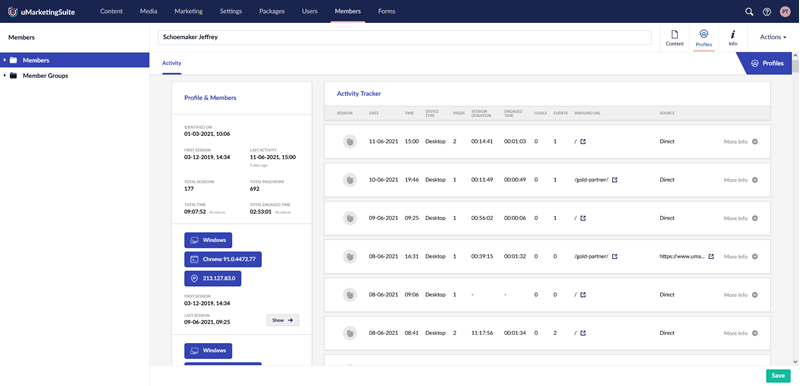 Additional new functionality
The following functionality is also included in this release:
Bugfixes / improvements
Do no show bots in profile overview
Improvements for the Google Analytics Tag Manager integration
Adding personas as non-admin gives 401 error
Other bug fixes
If you find any bugs? Please report them to us on Github: https://github.com/uMarketingSolutions/uMarketingSuite
Obtaining a license
Check out our pricing page on uMarketingSuite.com for a complete overview of the available bundles and pricing. Interested in becoming a uMarketingSuite partner with a lot of partner benefits? Go to our partner page.
What is next?
In the next sprint we will be working on:
Analytics Campaigns (support for utm tags)
Campaign Management (Segments, implicit scoring)
uMarketingSuite 2.0 alpha (Umbraco 9 support)
Improve NuGet installation speed